Posts Tagged with exit kingdom realty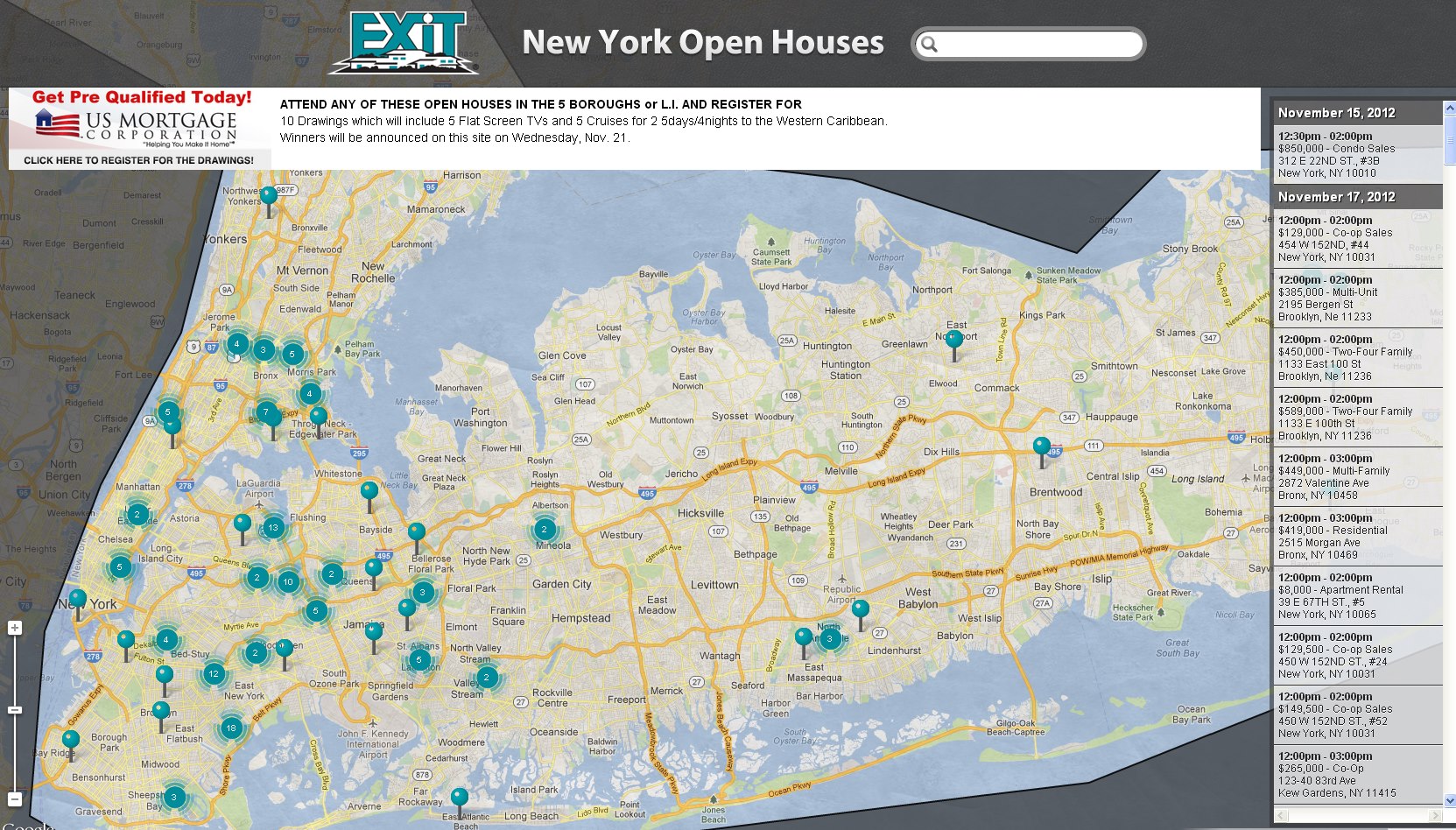 EXIT REALTY OFFICES IN THE 5 BOROUGHS AND LONG ISLAND WILL BE HOSTING AN OPEN HOUSE EXTRAVAGANZA WEEKEND OVER 200 HOMES WILL BE HELD OPEN
Forest Hills, New York (Grassroots Newswire) November 15, 2012 -- In an effort to encourage the public to buy Real Estate NOW, EXIT Brokers and Agents in our Downstate NY Region are coming together to host over 200 Open Houses to be available for viewing on November 17-18, 2012.
To learn more details and to view all the home locations, we invite you to visit us www.EXITnyOpenHouses.com.
When visiting any of these Open Houses, you could be a winner for one of 10 drawings of 5 Flat Screen TVs and 5 Cruises with 5days/4nights for 2 to the Western Caribbean. You could register 2 ways. Visit any of the locations this Saturday or Sunday and register on site or log into www.EXITnyOpenHouses.com. There is no cost or obligation to buy, it's our way to say thank you for visiting any of these Open Houses.
All 10 winners will be announced on this same site late Wednesday, Nov. 21 and will be invited to receive their prize at our upcoming Holiday Gala Celebration taking place on December 13, 2012 at Leonard's of Great Neck.
We encourage everyone who may be thinking of buying a home to take full advantage of the low interest rates on mortgages now. These are the lowest EVER, therefore, you should not pass this opportunity of making an EXIT to Home Ownership.
4 Reasons Our Agents Love Being Paperless

Ever since we implemented web-based software for real estate transaction management at Exit Kingdom Realty, our agents have been able to do things that weren't possible with a paper-filled office. Going paperless wasn't easy at first, but it sure was worth the effort. And now our agents can't imagine working at an office without an online solution to transaction management.

Here are a few things our agents like about our paperless office:

Access To Documents Anywhere
Every agent has shown up to a closing without an important document, slowing things down while they drive back to the office or wait for an incoming fax. But with online access to all their transaction documents, our agents (and their clients) can show up to closing with a laptop and be confident they have all the documents they need.

Less Time Spent On Organization
Managing stacks of papers is hard work! Thankfully, our agents can sign into our paperless system and search for a file by address, MLS ID, and more. Once they find a transaction, they can add documents, make notes, and send important paperwork to clients. Agents love that they don't have to spend hours sorting and filing. And their clients love how seemingly organized they are!

Fewer Lost Documents
Documents can be submitted to our paperless system by emailing, scanning, or direct upload. Our agents can add documents from a clients' house or anywhere else they might find themselves. Because it's so easy to get documents, documents are less likely to go missing. And fewer lost documents means less stress for everyone.

Easy Sharing With Third-Parties
All the documents in our paperless system can be emailed out to third parties like title companies, lenders, and clients. Perhaps a buyer wants to take another look at the contract late at night?
Thursday's Headlines
October 6, 2011
NY Times
Details of Home Sale Emerge in Consultant's Trial for Theft
It was December 2008 when John F. Haggerty Jr. agreed to buy out his brother's stake in their dead father's home in Queens.
Freddie and Fannie Reject Debt Relief
Home values have fallen so much in Arizona that almost half the people with mortgages there owe more than their homes are worth. So when federal money became available to help stem the tide of foreclosures, the state flagged that group for help.
Land Deal Is Announced to Allow New U.N. Tower and Esplanade
City and state officials on Wednesday agreed to a $73 million plan that would unlock an underutilized chunk of the Manhattan waterfront between East 38th and East 60th Streets, paving the way for a new United Nations office tower and esplanade along the East River.
Giuliani Ads to Promote Safety of Indian Pt.
10 p.m. | Updated The operator of the Indian Point nuclear power complex has hired former Mayor Rudolph W. Giuliani to vouch for the plant's safety in a new advertising campaign scheduled to begin next week.
Daily News
Frances Bean Cobain buys $1.825 million L.A. home of her own
Frances Bean Cobain, the 19-year-old daughter of late Nirvana frontman Kurt Cobain and Courtney Love, purchased a home of her own in Los Angeles for $1.825 million through a trust, according to The Real Estalker.
NY Post
Lady's man
Nicola Formichetti, Lady Gaga's style guru, has rented a two-story SoHo building on Greene Street for $20,000 a month. It's a 6,000-square-foot space with a 2,000-square-foot, upper-floor residence and a private rooftop.
LICin' good!
Just about as fast as they hit Long Island City, Hugue Dufour and Sarah Obraitis -- the Quebecois-American duo behind one of the most celebrated new restaurants in the city, M.
Monday's Headlines
September 26, 2011
NY Times
In a Bronx Complex, Doing Good Mixes With Looking Good
Sometime late this winter people will start moving into Via Verde, the subsidized housing development now rising on a long, narrow slice of formerly contaminated city property in what used to be one of the worst stretches of the South Bronx.
After Perry's Debate Showing, Eyes Turn Toward Christie
Tim LarsenGov. Chris Christie of New Jersey spoke at the Delaney Hall 10th Anniversary Ceremony in Newark in April 2010.
The reignited effort by Republican activists and donors to persuade Gov. Chris Christie of New Jersey to run for president may say more about the jittery state of the party's major financial backers than it does about any possibility Mr. Christie will change his mind and announce a campaign.
Daily News
Your guide to Astoria's Little Brazil
Little Brazil is more than just a block in midtown — Astoria's cultural melting pot includes a bustling strip of restaurants and markets along 36th Ave. catering to the Brazucas settling in the Big Apple.
'Housewife' Lisa Vanderpump buys stunning new Beverly Hills mansion
Lisa Vanderpump, a cast member of the "Real Housewives of Beverly Hills" may have downsized from her sprawling 17,000-square-foot mansion – but pictures show her new pad, also in Beverly Hills, is still quite a palace.
Ask a broker: Town Residential's Aeen Avini
Town Residential's Aeen Avini went into real estate right after finishing NYU — and was lucky enough to land a big sale on his first day on the job. He goes the extra mile for clients — even if it's while he's in the back of their car with their luggage on top of him.
Belgrade Press: Jack Nicholson interested in apartment owned by former Yugoslav states
At least there's one thing the six cash-strapped former Yugoslav states can agree on: Selling a $12-million Park Avenue apartment in New York.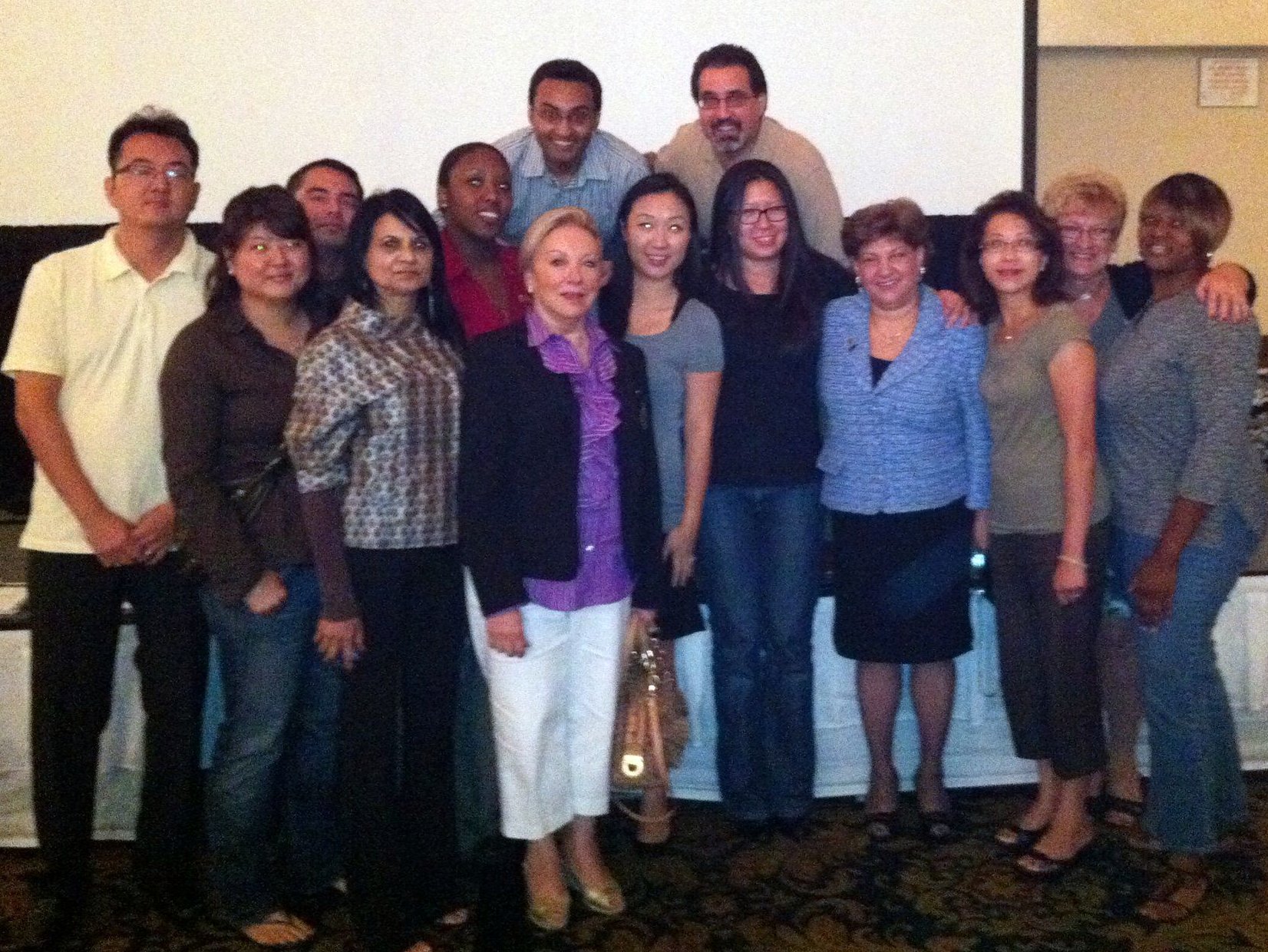 There are many good reasons to work with a qualified real estate professional. Especially a trained professional who has earned the Certified Buyer's Representative (CBR) or Accredited Buyer's Representative (ABR) designation, representing a homebuyer's best interest. When buyers begin their search for a new home, they will usually call off a sign or an advertisement. Many home buyers believe a Realtor with whom they are working with sometimes on a daily basis represents them and their interests. Without proper disclosure, this is definitely is not the case. A Realtor unless specifically disclosed otherwise, represents the seller in a transaction for the sale of a home. It is the Realtor's fiduciary duties, where their loyalty lies, to protect the seller's best interest at all times; not the buyers.
Without a Buyer's Agent, "your" Agent represents, and owes loyalty to, each and every seller of properties you are viewing. Any information you reveal to the Agent must be conveyed back to the sellers. It is important to understand that if the Agent represents the seller,they cannot reveal certain things to you, as the buyer. The reason for selling, unless the seller specifically authorizes it, any concessions in price or otherwise that the seller may be willing to give up, any conversations that the seller and the Agent may have had and any information that could be unfavorable to the seller, or give you, the buyer, an advantage. This would include a Comparable Market Analysis that could put the seller at a disadvantage.
Buyer Agency changes this. If a Buyer's Agency agreement is produced between you and the Agent, it is you rather than the seller, who has the representation from the Agent with whom you are working with. If you are being represented by a Buyer's Agent, the potential benefits are substantial. Your Agent can develop a Comparable Market Analysis, revealing at what price similar properties in the area have been listed for and sold for.
Thursday's Headlines
September 22, 2011
NY Times
One in Five New York City Residents Living in Poverty
Poverty grew nationwide last year, but the increase was even greater in New York City, the Census Bureau will report on Thursday, suggesting that New York was being particularly hard hit by the aftermath of the recession.
Daily News
NY Post
Mortgage deal foes in powwow
Regulators and banks are making a new push to breathe new life into the faltering mortgage settlement talks, The Post has learned.
Shop talk
CB2
979 Third Ave., opens late October
The snooty D&D Building will get an infusion of hip and affordable everyman furnishings with the opening of CB2 Eastside. The 8,000-square-foot store's design feels very downtown: Metal floor tiles, a display alcove from a repurposed bank vault and a steel display cage are some of the edgy elements that will complement the brand's streamlined, modern aesthetic.
Dakota bldg.
It's back-to-school time for teenage "Twilight" actress Dakota Fanning, who has enrolled at New York University. Fanning, 17, has moved into a two-bedroom rental at 225 Lafayette St., a luxury condo conversion of a stunning 1924 Beaux Arts building.
What's old is new again
In addition to the spate of brand-new development, there is a host of old new development or new old development -- depending on the way you look at it. We're talking projects that were planned, constructed and sometimes even sold, but which in the end found themselves unable to reach fruition.
I don't know how she did it
When Broadway star Nancy Opel (now dazzling audiences as Mama in the hit "Memphis") moved into a Hell's Kitchen rental in 2001, she never guessed that she was about to strike real-estate gold. Two years after she moved in, she did something that will make rent-weary New Yorkers envious, perhaps to the point of disbelief.
Older Posts