History of Woodside
Colonial Period
As with most regions of New York State, Woodside once belonged to the Native Americans. However, in 1642, Father John Doughty of Massachusetts was granted a charter for 13,000 acres by the Dutch, and it was at that point that European settlement of Woodside began.
Located in Western Queens, the land that would be called Woodside was once referred to as "suicide's paradise" due to the eerie swamps that were populated with snakes, as well as the expansive and intimidating forests that lined the area. However, some brave souls paved roads to navigate through the region.

Woodside's Roads
19th Century
In the 1800's, wealthy merchants predominantly from South Carolina built mansions in or around Woodside. It was during this period that Woodside would start to develop in terms of housing and infrastructure. John Andrew Kelly owned a mansion in Woodside, from which he would enjoy and write about his view of the woods in a series of articles titled "Letters from Woodside." The name stuck with Benjamin Hitchcock, who bought the estate in 1867 in order to sell land and start a village.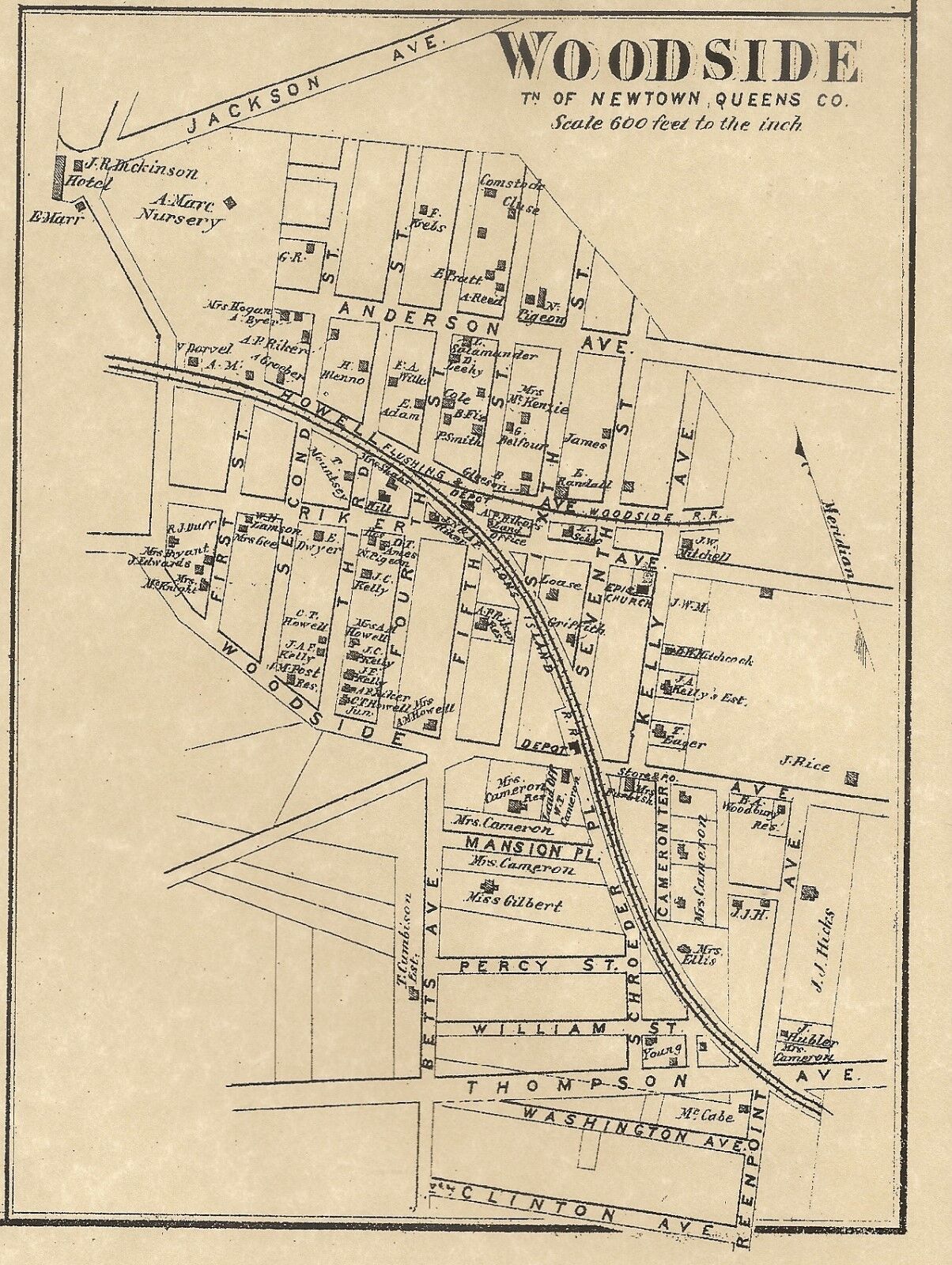 Map of Woodside (1873)
The village had rapid growth on account of the construction of the Queensboro Bridge and the LIRR station in 1867. The region was home to many immigrants; in fact it had the largest population of Irish people in Queens. By 1910, the population had grown to 6,000.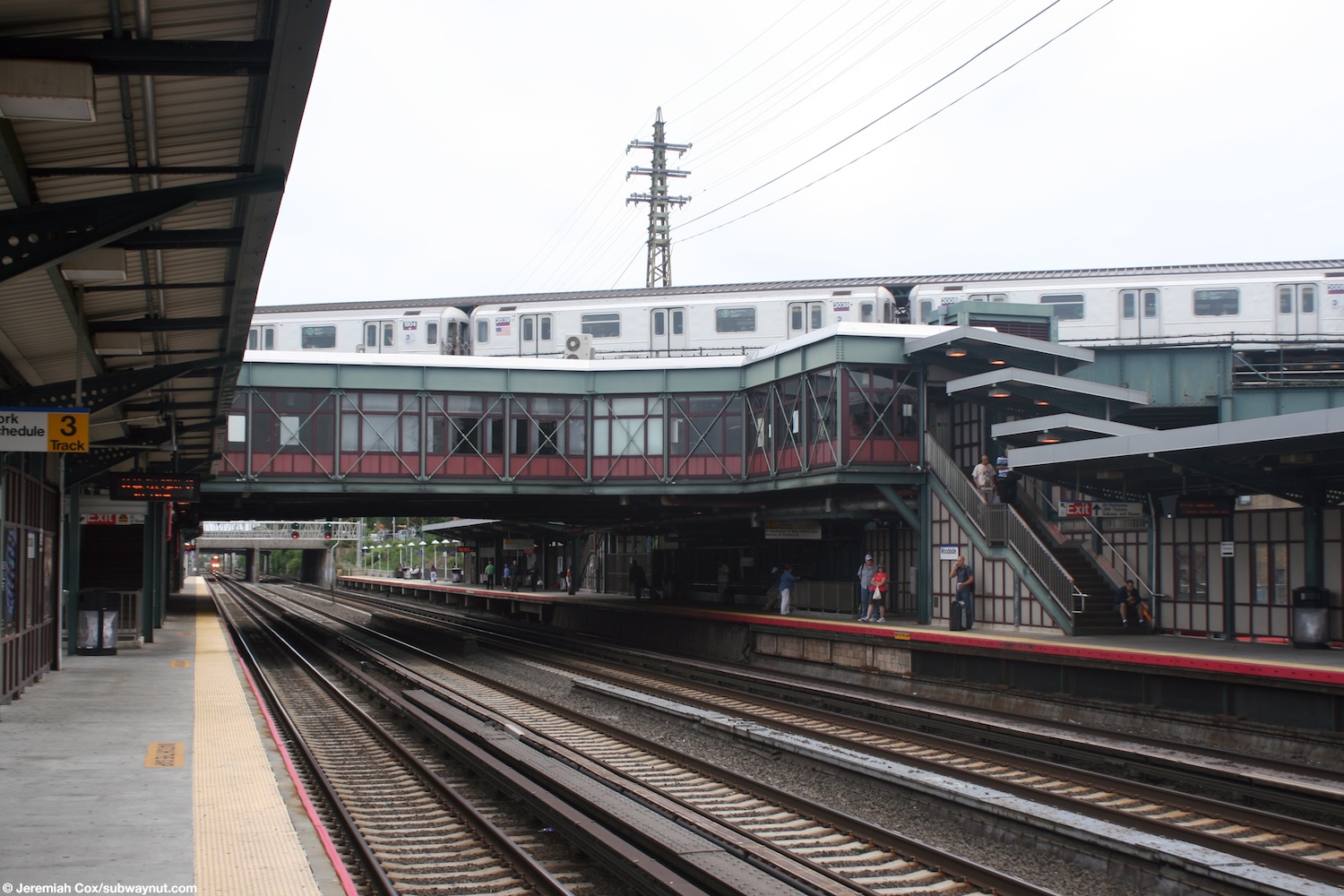 Woodside LIRR Station
20th Century
Woodside had slowly been transforming from a small suburban region whose economy was supported by farming to an urban neighborhood that was in dire need of more housing. In 1924, the City Housing Corporation began to build private homes, however, Woodside had an extremely high immigrant population, so they were not able to afford private housing. They preferred having more apartment buildings but the City Housing Corporation wanted houses. As a result, many immigrants lived one family homes with cramped, inhumane conditions.
Irish immigrants entering the country at Ellis Island due to famine in Ireland
The population shot up again in 1917 due to the construction of above-ground train lines. By the 1920s, all land in Woodside had been developed. Many of the houses built in the 1920s were taken down to make room for apartment buildings during World War II.

Woodside Court: Oldest apartment building in Woodside
Woodside Plaza, formerly known as Woodside Memorial Park, was constructed in 1971, and is dedicated to those who gave their lives in the wars in Korea and Vietnam. The monument at Doughboy Park was dedicated on Memorial Day in 1923, and is dedicated to those who lost their lives in the first World War.
Woodside Memorial Park
Doughboy Park
Today
While Woodside has historically been known for its high Irish population, the area is now one of the most diverse regions in Queens. However, it still retains some Irish culture, which has even somewhat blended with the Asian and Hispanic cultures in the area. Immigration now has shifted mostly from Southeastern Asia and Hispanic countries and makes for a beautiful, diverse region of Queens.
Woodside's above-ground subway tracks
References
https://history492farandaway.wordpress.com/american-ethnic-history/
http://forgotten-ny.com/2005/10/woodside-queens-part-1/
https://macaulay.cuny.edu/eportfolios/lobel11neighborhoods/woodside/history-of-woodside/
https://www.nycgovparks.org/about/history/historical-signs/listings?id=12766
http://www.foresthillstennis.com/History.aspx
Exit Kingdom Realty offers several homes and apartments for sale throughout Woodside, Queens, and Long Island. If you have any questions, contact us at 718-268-8868.